In a new piece for Salon, I discuss girls and women playing football -- whether it was me in high school playing what was termed "powder puff" football, varsity flag football athletes in Florida and Alaska, or the impressive women of the Women's Football Alliance and Independent Women's Football League, which together field 92 teams professional full-tackle football across North America (including the Detroit Dark Angels).
The gist? Football is an extraordinary game. With impressive numbers and enthusiasm, given that they are never cultivated in the sport, girls and women like to play. Why, then, are the opportunities so few?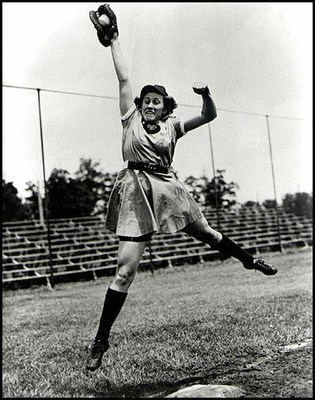 Speaking of women in sports, I'd be remiss without noting the passing of Dorothy ("Dottie") Kamenshek, one of the very best of ballplayers.
Playing first base and serving as the left-handed lead-off hitter for the Rockford Peaches in the All-American Girls Professional Baseball League, Kamenshek was the undisputed star; she was immortalized by Geena Davis' (adapted) portrayal of her in "A League Of Their Own" (a film I've loved since 1992, though I amazingly only got the Virginia Woolf reference of the title about a year ago). Kamenshek's team won four championships, and she won two of the league's batting titles. A Fort Lauderdale (men's) minor league team tried to buy her contract in 1950, but the AAGPB wouldn't let their best player go. According to The Los Angeles Times, "she was known to jump three or four feet in the air and to even do the splits to snag the ball at first base." From what I can tell, Dorothy Kamenshek seems to be one of the most underrated athletes of the twentieth century.