Let's own it. This is mine. This is how I feel about it. The catchword I use with my classes is: The authority of the writer always overcomes the skepticism of the reader. If you know what you're talking about, or if you feel that you do, the reader will believe you. That's why we believe Frank Baum. Who would believe Dorothy and a house and a dog up in a tornado? We believe it because the author believes it. We believe Peter Rabbit because Beatrix Potter believes it. You have to.

The authority of the writing will always overcome that. You can't hedge your bets. If you do, people will say, "Hmm. Where did you get that from?" You can't do that. Just don't do it.

    -- From a 2000 interview

Nikki Giovanni -- poet, Virginia Tech professor, civil rights activist -- is coming to Wayne State University in Detroit later this month to as a two-day visiting professor, a role that will find her meeting one-on-one with disadvantaged college students to urge them to seek advanced degrees.
And she will also give a public reading and book signing that you and I are going to attend. Yes? RSVP for the free event on September 30 here. Giovanni will be introduced by a longtime fan of hers. I will see you there.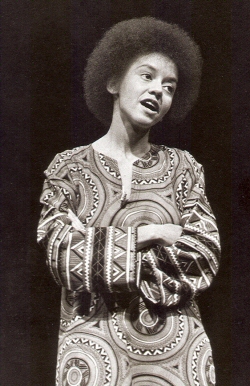 Giovanni has published (at least) 27 books and is also a Grammy winner (spoken word). The former Fisk University student (expelled because her "attitudes did not fit those of a Fisk woman"; she later re-enrolled under the tenure of a new dean of women) was the face of the Black Arts movement after she self-published her first book. She now holds more than two dozen honorary degrees and more awards and distinctions than any poet dares to hope for. One of those took me aback: in 1986, the Detroit city council gave Giovanni its Distinguished Recognition Award. I have heard little about poetry from the council since. But that's kind of neat, all the same.
See a very lovely and interesting conversation between Giovanni and my hero Bill Moyers here. That interview takes place last year, shortly after the publication of Bicycles: Love Poems.
Thanks to Jacob C. for the tip!
Image Credits: Black on Campus