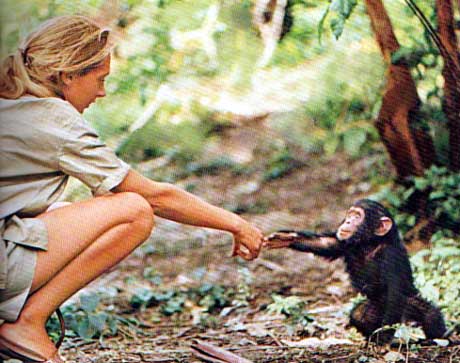 "I don't think that faith, whatever you're being faithful about, really can be scientifically explained. And I don't want to explain this whole life business through truth, science. There's so much mystery. There's so much awe. I mean, what is it that make the chimpanzees do these spectacular displays, rain dances, I call them, when-- waterfall dances at the foot of this waterfall. And then sit in the spray and watch the water that's always coming and always going and always here. It's wonder. It's awe. And if they had the same kind of language that we have, I suspect that would turn into some kind of animistic religion.
... But I also had my mother. And she would always-- she said she never saw the conflict between religion and evolution. Louis Leakey, my great mentor who dug up early man. You know, he felt the same. So, I sort of had this and then, yes, it all came together in the forest. ... But you have to remember, I didn't start as a scientist. I started as-- well, I wanted to be Poet Laureate. And I wanted to be a naturalist. That's how I began. I didn't have any desire to go and be a scientist. Louis Leakey channeled me there. I'm delighted he did. I love science. I love analyzing and making sense of all these observations. So, it was the perfect rounding off of who I was into who I am."
--- Jane Goodall in conversation with Bill Moyers,  2009.
Fifty years ago last July, when she was 26 years old and had only a high school education, Jane Goodall went to the Gombe Stream Reserve near Lake Tanganyika in Tanzania with a small grant from the National Geographic Society and with the support of the legendary Louis Leakey. Her observations, meticulous notes, and life among the chimpanzees revolutionized our understanding of chimps--she was the first to describe how chimps make and use tools; previously thought to be a trait that distinguished humans from animals. She was, later, the first person without a college degree to be admitted  to Cambridge University, where she received her Ph.D. Now in her mid-seventies, she travels 300 days a year to travel, work, speak, write, and sustain momentum for the Jane Goodall Institute, which works to protect wildlife habitat around the world, and the Roots and Shoots program, which operates in 114 nations to teach and train young people in creating projects that help the environment.
Books authored and co-authored byJane Goodall: